Ľutujeme, spoločnosť ponúkajúca danú pracovnú pozíciu ukončila zverejnenie ponuky na stránke.
Ďakujeme za porozumenie.
Zobraziť podobné ponuky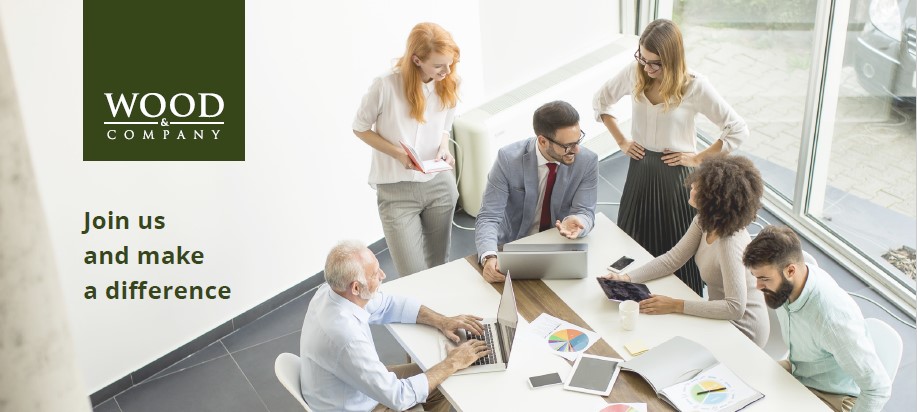 Enterprise Strategy Analyst
WOOD & Company, the leading and most innovative investment bank in the CEE region, is planning to grow its corporate strategy team in Bratislava.
We are offering the position of Enterprise Strategy Analyst to join our young and performance-driven team with experience in the corporate strategy design for large Slovak corporates, such as:
O2 Slovakia
Chirana Injecta
Kosit
Slovakofarma
If you are a team player, innovative thinker with entrepreneurial acumen, you enjoy to elaborate on out of the box strategies for 21st century businesses and understand fundamental corporate finance concepts, you might be just the right candidate for this position.
This position is suitable for enrolled graduate university students or candidates with a maximum of two years of work experience.
TASKS AND RESPONSIBILITIES:
Research and design innovative best practices for our focus industries
Drive benchmarking analysis of major industry players and local competitors for portfolio companies
Support management in business plan and feasibility study reviews
Analysis of financial statements and preparation of financial models for contemplated capital investments focused on innovation and development
Author comprehensive reports on key initiatives of WOOD & Co. strategic team
Support senior asset managers in their strategic projects
REMUNERATION AND OTHER BENEFITS:
We do not offer a single starting salary, as it depends on the candidate's experience and is the subject of an agreement made during the recruitment process. The minimum starting salary starts at EUR 1,400 gross for full-time.
An annual performance bonus is driven by 360 evaluation review once a year.
Employee benefits include private health care service, multi-sport facilities access, team-building and other social activities.
SELECTION PROCESS:
If you want to start your career in our team and work on the real-life corporate strategies, please send your CV via Profesia.sk or to hr.sk@wood.com.
We expect to complete the selection process by 31 July 2021.
ABOUT WOOD & COMPANY:
WOOD & Co. is a leading independent investment bank in Emerging Europe, founded by Richard Wood, a senior ex-Salomon Brothers executive, in 1991. Headquartered in Prague, our footprint spans the region and touches investors around the globe.
From its six European offices in Prague, Bratislava, London, Warsaw, Milan and Bucharest, WOOD & Co. continues to provide high quality securities brokerage and a full range of investment banking and corporate finance services, including large scale privatizations, initial public offerings, capital markets transactions, mergers and acquisitions, fund raising and corporate advisory to foreign as well as domestic corporate clients, issuers and institutions.
WOOD & Co. is the member firm of Oaklins (www.oaklins.com) in the Czech Republic and Slovakia. Oaklins is the world's most experienced mid-market M&A advisor, with over 850 professionals globally and dedicated industry teams in more than 45 countries. We have closed 1,700 transactions in the past five years.
If you are interested, please send us your CV and cover letter (both in English language).
We are looking forward to meeting you!
Send CV to the company