Ľutujeme, spoločnosť ponúkajúca danú pracovnú pozíciu ukončila zverejnenie ponuky na stránke.
Ďakujeme za porozumenie.
Zobraziť podobné ponuky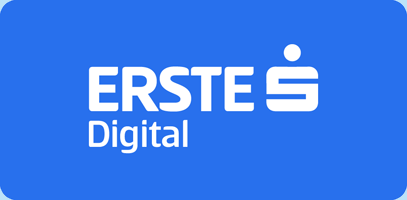 9 million people across Europe organise their personal finances with George. Where design meets technology, George stands out on an open platform. We invite you to develop this platform with us into the next dimension. We achieve this by empowering people to understand, manage and, last but not least, enjoy one of their most personal things: their money. Join us in our agile environment and make banking simple, intelligent, and personal!
Student Part-time Product Owner (all genders) #work&study #PowerPoint #Figma

Location:
Bratislava

Working-Hours:
Part-time

Occupation Area:
IT

Company:
Erste Digital
As an intern, you're not only passionate about George, but you're also on fire for working in agile and diverse teams. You want to get insights and learnings on the commercial part of our product with a strong technical influence.
We are Erste Digital. We are #digitaltotheheart
What to do:
Stepping into the first line for smaller content topics/features by shaping it, promoting it, fighting for it. This also includes initiation, i.e. identifying existing features that would benefit from a bit more love and dedication.
Connecting the dots across our teams by participating in Reviews of different disciplines (e.g. Design & Product Owners) and identifying any gaps, overlaps or even inconsistencies and take any action needed.
Our reporting needs some polishing - compile a proposal on how we nicely, lively and in an appealing way can share how we are doing in reaching our strategic goals
Help us to structure ourselves even better by coordinating and shaping our communication inside and outside/towards our stakeholders
Stay close with our Chief Product Officers, see the unexpected topics popping up day by day and take over whatever appears on the horizon. That can be: Gathering the inputs for a newsletter, finding out the market situation for a specific functionality or dealing with the need to drop an OS version.
You check these boxes:
Currently enrolled at a University or University of Applied Science
Deductive reasoning, ability to create efficient and effective structures and reports
Excellent Power Point skills and passion to create presentations that transmit information in a lively, appealing and still to-the-point manner
Flexibility and adaptiveness - as an attitude, not a mitigation strategy
Empathy for our customers, empathy for our team members
A very good command of English; German is an advantage
You will impress us by:
Excellent communication skills with an open and curious personality
Open for hard work, fun, challenging negotiations and heavy parties
Willingness to learn, sometimes very exciting stuff and sometimes less exciting, but necessary
Why you will like us:
Possibility to benefit and learn from our international, talented and passionate community at Erste
Great learning curve through ownership and creative freedom
Interest groups and clubs: Take part in discussions and get involved in projects. Numerous interest groups invite you to engage with a topic
Learning & Development – We are firmly convinced that every day is an opportunity for learning. Improve your know-how in workshops, seminars and through e-learning – from professional training to soft skills.
New way of work: With our flexible working hours model we want to make your life less complicated. Combing the best of both worlds, remote and company time.
We offer you a part-time internship position (20h/week). An internship salary starting up from 7€/h, depending on your skill and previous work experience is offered.